Saban Addresses 'Leaving for Texas' Rumors Again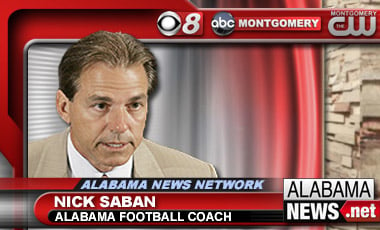 Rumors of Alabama head football coach Nick Saban were circulating Wednesday.
They were about whether Saban might be interested in becoming head coach at the University of Texas. Saban addressed those rumors at a press conference.
Coaching football at the Division One level can be a stressful job.
" These coaches are making really big salaries," said Sports Analyst Rob Martin. "Their assistants are as well, so no doubt there is an enormous  amount of pressure to win each and every Saturday. And if you don't win, you get fired."
Add to that back-to-back National Championships and a number one ranking in the polls week after week, and the pressure to deliver could be through the roof.
AP recently reported that Coach Nick Saban's agent Jimmy Sexton had been in talks with University of Texas officials. Plus, Former UT regent Tom Hicks sent an email to another regent stating:
"Sexton confirmed that UT is the only job Nick would possibly consider leaving Alabama for, and that his success there created special pressure for him."
Saban denied the rumors were true in the past and at a Wednesday press conference.
 
"First of all, I don't know where y'all get these reports or where you get this information. But I've already commented on all this stuff. Nothing new or different that has happened. I'm very committed to the University of Alabama," said Saban.