Auburn hoops takes down Boston College before holiday break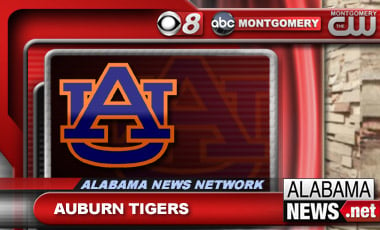 AUBURN, Ala. — KT Harrell scored a career-high 29 points to lead Auburn to a 77-67 victory over Boston College on Sunday.
Auburn (6-3) hit 10 of its first 18 attempts from beyond the arc in the victory, with Harrell netting six of the Tigers' 3-pointers. Senior guard Chris Denson, who ranks No. 2 in the SEC in points per game, added 15 for the Tigers.The two teams traded the lead several times in the first half, but Auburn headed into halftime with a 13-point lead on Boston College (4-8) thanks to a late 14-2 run. The Tigers then scored seven unanswered points to open the second half.Boston College chipped away at the large Auburn advantage throughout the second half, cutting it to an eight-point lead with four minutes to play. But the Tigers, who lead the SEC in free throw percentage, hit 9 of its final 10 attempts from the line to hold off the late charge from the Eagles.Auburn freshman point guard Tahj Shamsid-Deen scored 14 points, including an acrobatic layup as the shot clock expired to give the Tigers a 10-point lead with two minutes left to play. Shamsid-Deen also went 2-for-3 from beyond the arc in the victory.Sophomore guard Olivier Hanlan scored 28 points on 8-of-14 shooting for Boston College. The only other Eagle to score in double figures was forward Ryan Anderson, who had 11 points.The Eagles' season record in road games went to 0-4 with the loss, which was Boston College's first visit to Auburn in school history. Boston College defeated Auburn 50-49 in last season's meeting in Chestnut Hill.Sunday's victory gave the Tigers back-to-back wins against ACC opponents. Auburn edged Clemson 66-64 last Thursday night.
Copyright by STATS LLC and The Associated Press