Woman Arrested as Gay Couple Gets Alabama Marriage License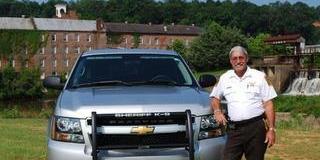 PRATTVILLE, Ala. (AP) – An Alabama woman is facing a disorderly conduct charge after offering to perform a same-sex wedding inside a courthouse.
Autauga County Sheriff Joe Sedinger says the woman was arrested Tuesday in the probate office.
Sedinger says a dispute occurred between Probate Judge Alfred Booth and Anne Susan Diprizio, of Prattville, after two women obtained a marriage license.
The sheriff says Diprizio identified herself as a minister and offered to marry the women. But Booth hasn't been allowing marriage ceremonies in his office since gay marriage became legal in Alabama.
Sedinger says the judge called deputies, who found the woman kneeling and refusing to leave in an apparent protest.
Sedinger says Diprizio is free on $1,000 bail. Court records don't show whether she has a lawyer.
(Copyright 2015 The Associated Press. All rights reserved. This material may not be published, broadcast, rewritten or redistributed.)