Existing US Home Sales fell in December as Supplies at 17-year Low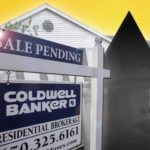 Americans retreated from purchasing homes in December, as the number of properties listed for sale sank to its lowest level since 1999.
The National Association of Realtors says that sales of existing homes fell 2.8 percent last month to a seasonally adjusted annual rate of 5.49 million. For all of 2016, sales posted an annual gain of 3.8 percent to 5.45 million. But the housing market has become trapped by a supply shortage that has pushed prices higher and may limit the potential for additional sales growth.
Just 1.65 million homes were listed for sale in December, a 6.3 percent drop from a year ago and the smallest total since 1999.
The tight supplies pushed the median sales price to $232,200 last month, up 4 percent from a year ago.
(Copyright 2017 The Associated Press. All rights reserved. This material may not be published, broadcast, rewritten or redistributed.)