Alabama Lawmaker Confronts Speaker for 'Racist' Comment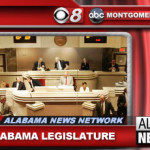 An Alabama lawmaker shouted down a committee meeting speaker who dismissed marijuana arrest disparities as playing the "race card."
Democratic Rep. Juandalynn Givan, of Birmingham, warned former state Rep. Richard Laird on Wednesday to never return to the House Judiciary Committee for using the term.
She also argued with the body's chairman for interrupting her during the spat.
Laird apologized shortly after making the comment.
When the hearing ended, Givan hurled an expletive-laden rant at the chairman. She then approached Laird and pointed her finger in his face, telling him that she would remove him if he ever came back.
Laird was representing the ethics group Alabama Citizens Action Program during the public hearing. Security escorted Laird out after the meeting ended.
(Copyright 2017 The Associated Press. All rights reserved. This material may not be published, broadcast, rewritten or redistributed.)