Court Revives Baggage Fee Lawsuit Against American Airlines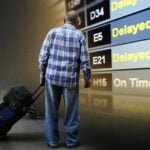 A federal appeals court has reinstated a lawsuit seeking the return of baggage fees to passengers whose luggage was delayed or lost on flights with an airline that merged with American Airlines.
The 9th U.S. Circuit Court of Appeals said Wednesday that the lawsuit provided sufficient evidence for its claim that the former US Airways promised to deliver bags when passengers landed.
The ruling overturned a lower-court decision that dismissed the lawsuit. A spokesman for American Airlines said the company was reviewing the decision and considering its legal options.
The plaintiff, Hayley Hickcox-Huffman, sought her $15 baggage fee after her bag did not show up on a carousel following a US Airways flight to California.
Her lawsuit seeks class-action status on behalf of other passengers like her.
(Copyright 2017 The Associated Press. All rights reserved. This material may not be published, broadcast, rewritten or redistributed.)