U.S. New-Home Sales Fell in July, Yet Still Ahead of Last Year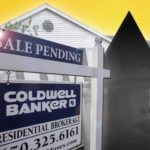 Sales of new U.S. homes plummeted 9.4 percent in July, the sharpest one-month drop in nearly a year. But the decline follows strong sales in previous months, and sales so far this year are outpacing last year's.
The Commerce Department says sales fell to a seasonally adjusted annual rate of 571,000, down from 630,000 in June. July's new home sales were the lowest since December.
Still, new-home sales in the first seven months of the year are 9.2 percent higher than in the same period last year. More buyers are turning to newly built houses as the number of existing homes for sale has dwindled.
The housing market overall is mostly healthy, but sales have stumbled this summer as the supply crunch has elevated average home prices nationwide.
(Copyright 2017 The Associated Press. All rights reserved. This material may not be published, broadcast, rewritten or redistributed.)