How to Help Harvey Flooding Victims in Houston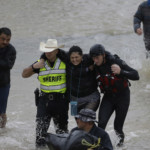 If you are looking for ways to help the victims of Hurricane Harvey, here are some easy ways to do it:
There are a few ways to donate to the American Red Cross, which has already set up shelters in the hardest-hit areas.
You can donate online at www.redcross.org, or you can call (800) Help-Now to donate by phone.
You can even donate by text. Just text the word "Harvey" to 90999 to make a $10 donation.
The Salvation Army is also taking donations.
You can donate at this website www.salvationarmyusa.org, or you can call (800) SAL-ARMY.
Salvation Army teams are also on the scene in Texas providing shelter and more than 1200 meals so far.