ASU Marching Hornets To March In 2019 Rose Bowl Parade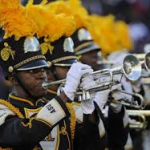 A big trip is ahead for the Mighty Marching Hornets at Alabama State University. The marching band has been invited to perform in the 2019 Tournament of Roses Parade in Pasadena, California.
The Hornets were selected out of hundreds of applicants, and will be one of the few college marching bands to march in the parade in 2019. Bands are selected about 15 months in advance to give the groups time to raise the money needed for the trip to Pasadena.
The group will need about 150,000 dollars to make the big trip. With a little over a year left to fundraise band director, James Oliver says  "I'm not concerned about it. I know that the family , the friends, the students, our church groups, they are going to help us".
If you'd like to help the Mighty Marching Hornets get to the Rose Bowl Parade, you can donate directly here.