Emergency Officials Ready for Winter Weather In Montgomery Area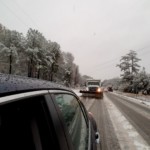 Emergency personnel in the Montgomery area have been keeping a close eye on road conditions overnight and this morning. Many areas have a dusting to more than an inch of snow and ice.
The Montgomery County Sheriff's Office says many bridges have up to an inch of snow or ice on them and extreme caution should be used until temperatures rise from near freezing to around 40 degrees later today.
Street Maintenance vehicles are already in position to respond to hazardous road conditions. If you absolutely have to travel during the overnight or early morning hours, Montgomery Police Captain Regina Duckett , says its best to be prepared for whatever may come your way.
"Make sure you have a full tank of gas and a safety kit. In the event that you do come into some trouble on the roadway and you get stranded just for a a short amount of time, make sure your cell phone is charged up, just so if something does happen that you make sure you're able to call somebody and get some help as quick as possible" she explained.
Outlying counties declared roads impassable on Friday afternoon and said travel should be limited to emergency vehicles.
If you come across any icey roadways or other potential hazards you can report them to the city or or county using their non emergency numbers. Those numbers are (334) 625-2651 for the city and (334) 832- 4980 for county roadways.