Male, 18, Accused of Raping 15-Year-Old Girl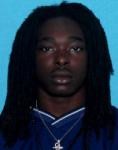 Millbrook Police have a charged an 18-year-old male with raping a 15-year-old girl.
Police Chief P.K. Johnson says the alleged incident happened Friday, but was not reported until Sunday.
The victim's mother told police the suspect, Jaquez Naqwan Harris, assaulted her daughter while she was staying at a friend's home, where Harris is also a resident.
Harris is charged with one count of Rape 1st degree.
He's being held in the Elmore County Jail. His bond is set at $60,000.