Civil Rights Groups Appeal Alabama Voter ID Ruling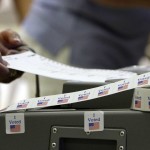 Civil rights groups are again challenging a federal judge's ruling that an Alabama law requiring government-issued photo ID for voting is not discriminatory.
The Alabama State Conference of the NAACP, Greater Birmingham Ministries and minority voters filed an appeal in U.S. District Court in northern Alabama on Tuesday. The organizations sued in 2015, arguing that the law disenfranchises 100,000 voters. Most are black and Latino.
U.S. District Court Judge L. Scott Coogler ruled in favor of the state in January. Alabama's Secretary of State said the government provides a mobile-home service to issue IDs but acknowledged only five visits have taken place since the lawsuit was filed.
The plaintiffs are asking for the canceled trial to be rescheduled and the issue resolved before the state's midterm primary elections in June.
(Copyright 2018 The Associated Press. All rights reserved. This material may not be published, broadcast, rewritten or redistributed.)