Wetumpka Police Searching for Suspect in Multiple Robberies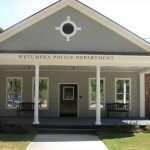 The Wetumpka Police Department is searching for an unidentified male wanted in connection to multiple robbery investigations.
Two of the robberies occurred 
Sunday
 morning between 
6:30 and 7:30 a.m.
 One happened at the Chevron located at the corner of Highway 231 and Red Eagle Drive, and the other at the Shell Convenience Store at the intersection of Highway 231 and Redland Road.
The suspect got away with an undisclosed amount of money, and was armed with a knife and another unidentified weapon.
 Witnesses say that the suspect was dressed in a blue "poncho style" coat. He was last seen driving a silver 4-door sedan, but the make and model of that vehicle is unknown.
Crimestoppers has also connected that suspect with a robbery that took place in Montgomery.
If you have any information regarding any of these crimes, please call the Wetumpka Police Department at (334)-567-5321, or CrimeStoppers at 215-STOP.