15 Years Later, Mother of Missing Woman Still Searching For Answers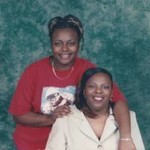 Calling their names one by one, dozens gathered outside of the Montgomery Police Department for a candle light vigil remembering Alabama's missing persons.
LaQuanta Riley was one of the many names called out. She was 19 years old when she went missing, last seen getting into someone's car nearly 15 years ago.
"She was bubbly full of life" said her mother Pamela Riley-Boldin. She still doesn't know who her daughter got in the car with back on December 3, 2003. It's one of the many questions that have gone unanswered all of these years.
"There have been many thoughts that that have went through my head and I have to… make them go away" she said.
She's since founded the Riley Relief Foundation, providing local support and assistance to other families searching for loved ones."We're going to be the voices for them" she explained "Whatever we can do to get the faces of the missing in the public and to be a support to the families left behind to grieve".
Monday night's vigil is one of the ways the group hopes to shed light on the growing list of missing persons in Alabama. The foundation helps connect families with resources they may not know are available like DNA data bases.
"There are data bases that are available that I myself didn't know about until about 9 years into my daughters disappearance" said Riley-Boldin. She's become close with many of the families she's reached out to through her foundation, almost all of them urging someone to come forward with any information in their loved ones disappearance. "It might be that one little word that one little sentence that you saw or overheard" she said.
While its been years since any new leads have surfaced in her daughter's cause, LaQuanta's mother still hasn't given up hope that she'll one day return home.
The reward for any information about LaQuanta's whereabouts is now up to $11,000. If you have any information, please call Crime Stoppers at 215-STOP, Secret Witness at 262-4000, or the Montgomery Police Department at 625-2831."