Lexus Recalls Cars to Fix Fuel Leaks That Can Cause Fires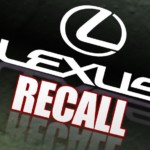 Toyota's Lexus luxury brand is recalling about 121,000 cars worldwide because of fuel leaks in the engine that can cause fires.
The recall covers certain 2006 through 2013 IS350 cars, as well as the 2010 through 2014 IS350C, and the 2007 through 2011 GS350 and GS450h. All have 3.5-liter V6 gasoline engines.
Toyota says a diaphragm material in the fuel injection system can harden over time and crack, allowing fuel to leak. The company would not say if the problem has caused any fires, crashes or injuries.
Most of the recalled cars are in the United States.
Dealers will replace the fuel delivery pipe with a new one containing improved parts at no cost to customers.
Owners will be notified by mail starting in early August.
(Copyright 2018 The Associated Press. All rights reserved. This material may not be published, broadcast, rewritten or redistributed.)