TSA Expects Record Crowds as July 4 Holiday Period Starts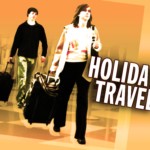 If you're traveling this weekend, leave extra time for getting through the airport security line.
The TSA projected that Friday would be its busiest day ever, with agents screening more than 2.7 million people.
A spokesman cautions, however, that the number could fall short of the record if, for example, a thunderstorm shuts down a major airport for several hours.
Friday's official count isn't expected before next week.
The Transportation Security Administration expects to screen more than 28 million passengers and airline crew members between Thursday and July 9.
TSA's single-day record of screening 2.71 million people occurred the Sunday after Thanksgiving in 2004. The Friday before the July 4 holiday last year is the third-busiest day on record.
(Copyright 2018 The Associated Press. All rights reserved. This material may not be published, broadcast, rewritten or redistributed.)