Defense Seeks To Recuse Judge, District Attorney's Office, And Change Venue In MPD Murder Case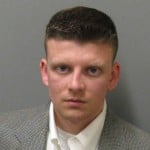 Attorneys for Aaron "Cody" Smith, the Montgomery Police officer charged in the 2016 murder of Greg Gunn, are asking a Montgomery County Circuit Judge to recuse himself from ruling on the case for a second time. The first request for Judge Griffin to recuse himself was last May.
The motion was filed over the weekend, following a lengthy hearing in which Judge Greg Griffin denied Smith's request for immunity from prosecution. The trial is set to begin August 13th though the defense said immediately after the hearing they plan to appeal the immunity hearing decision.
The motion cites the judge turned the case into a  "media circus"  after he "invited the media into the courtroom only to voluntarily proclaim that the believed the officers testimony was not credible, tainting the community's perception of  Smith and the eventual jury pool".
Smith testified at the hearing, giving his account of  what happened in the early morning hours of February 25, 2016. when he shot and killed 58-year-old Gunn. Smith's defense team has maintained that he feared for his life and shot Gunn in self defense, with prosecutors pointing out discrepancies between Smith's testimony given Thursday and previously in interviews with the State Bureau of Investigation.
Judge Griffin ruled the defense failed to prove his use of force was justifiable and in self-defense. The defense cites Griffin's single statement "I have to admit to you, I don't find the officer's testimony to be credible" before denying the request for immunity at Thursday's hearing as grounds to change the venue of next month's trial.
Cameras were not allowed inside of the courtroom, but the defense says Griffin's statement that he did not find smith's testimony to be credible that has since been reported by several media outlets, was biased and grounds for the judge to recuse himself from the trial.
The defense is also asking that the Montgomery County District Attorney's office no longer prosecute the case. "In this particular case" the motion says "the court's son is employed as an Assistant District Attorney with the Montgomery County District Attorney's Office".
Alabama News Network reached out to Mickey McDermott one of Smith's attorneys, who said he was unable to provide any additional comment until the District Attorney's office has responded to the motion. We also reached out to District Attorney Daryl Bailey, who has not yet responded to our request for comment.