State Supreme Court Stays Officer's Murder Trial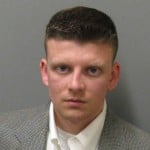 The Alabama Supreme Court has stayed the trial of a Montgomery police officer facing murder charges.
Aaron Cody Smith was scheduled to go to trial Monday on murder charges for the 2016 shooting of 58-year-old Greg Gunn. Justices on Wednesday stayed the trial to consider his appeal on a number of issues.
Smith's attorneys argue he should be immune from prosecution because he was acting in self-defense.
They also argue the trial judge tainted the jury pool with comments about the case.
Montgomery Circuit Judge Greg Griffin said last month that he didn't find Smith's testimony about the shooting "credible." Griffin made the comment as he denied Smith's immunity request.
Smith shot Gunn during a confrontation that began after Smith stopped Gunn as he was walking through his neighborhood.
(Copyright 2018 The Associated Press. All rights reserved. This material may not be published, broadcast, rewritten or redistributed.)