Authorities: Two People Charged After Five Children Exposed to Cocaine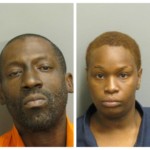 Montgomery police have arrested two people after authorities say five children were exposed to cocaine.
Authorities have charged 40-year-old Eric Heath and 31-year-old Cordelia Adair with five counts of chemical endangerment of a child.
The Department of Human Resources called authorities on September 6 after reports of drug activity at a home in the 400 block of Gardendale Drive.
Adair is being held on bonds totaling over $37,000.  Heath is being held on $75,000 bond.