Charges Dismissed After Confederate Monument Protests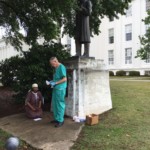 Charges have been dropped against protesters who police said splashed ketchup and colored powder on statues honoring Confederate figures at the Alabama Capitol.
Jon Broadway was arrested in April after smearing ketchup at the base of the statue honoring a 19th century doctor who did surgery without anesthesia on enslaved African-American women.
Broadway used ketchup to symbolize blood while performing a skit about the doctor.
State Sen. Hank Sanders said that charges were also dismissed against 13 activists, including his wife Faya Rose Toure.
Police arrested Toure and others in June, saying they threw a colored powder at a Confederate monument.
Sanders said the Confederate symbols honor people who committed treason "in order to preserve slavery."
Court records show criminal trespassing and tampering charges were dismissed.
(Copyright 2018 The Associated Press. All rights reserved. This material may not be published, broadcast, rewritten or redistributed.)