Early Bird Sales Bring In Shoppers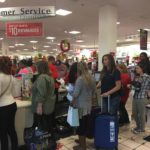 Stores opened early Thursday afternoon, offering Black Friday sales and Thanksgiving Day specials.
After eating their turkey and dressing, customers lined up outside stores at Eastdale Mall, ready to take on the challenge of Thanksgiving Day shopping
"I just woke up, ready to shop," shopper Jhordyn Long says. She stood in the middle of a long line at the entrance to Eastdale Mall's JC Penney location.
The countdown for the store's opening kept people waiting with anticipation, hoping to cash in.
Early-bird shoppers were standing in line for up to an hour waiting for the doors to unlock.
Once they were allowed to come inside, customers scattered looking for the best bang for their buck.
"Well, we're hoping to get some really big deals, you know," customer Flora Ross said. "We love clothing, we love shoes, kitchen appliances."
"Clothes, We had to get a vaccuum, stuff to cook with," shopper Peyton Smith says.
Smith came to help his grandmother shop the sales.
"She wanted me to help her get these great deals on Black Friday. It's very crowded but you got it risk it to get the good deals," Smith says.
Shopper Janay Ashley says this is her first time standing in a line on Thanksgiving Day. She hasn't started shopping for presents just yet.
"Actually stuff for the house right now. I haven't started my Christmas shopping yet," Ashley says
While others say waiting until the last minute was not on their agenda.
"Well, because you don't want to be too late to buy stuff or let it be out of stock," shopper Corey Green says.
Stores managers say they brought in extra employees to help with customers. According to the Alabama Retail Association, Alabamanians are expected to increase spending by 4.5%, or half a billion more, this holiday season than last year..