Search Continues at Smith Lake for Missing Troy Woman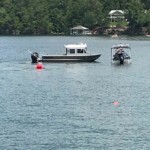 Marine Patrol Troopers and multiple law enforcement and search and rescue agencies have resumed their search for a missing Troy woman in the Rock Creek area of Smith Lake.
According to ALEA Marine Patrol Trooper Sgt. Chad Pate, Kelsey Starling, 26, went missing after a July 4th boating crash in the Rock Creek area of Smith Lake. Starling was a passenger in a 2012 Mastercraft wakeboard boat involved in a two-vessel crash that occurred at 10 p.m. Thursday night.
The operator of the Mastercraft, 23-year-old William Jackson Fite of Decatur, was booked into the Winston County jail early Friday on a charge of Boating Under the Influence. Four other passengers on the Mastercraft were transported for medical attention by emergency responders.
One person was injured on the second vessel, a 2011 Harris Flotebote pontoon boat operated by 50-year-old Jodi Wallace Suggs of Decatur.
The crash remains under investigation by ALEA Troopers.
Crane Hill VFD, Logan VFD, Dodge City VFD, Helicon VFD, Smith Lake Task Force, Regional Paramedics Service, Cullman Co. Sherriff's Office, Winston County EMA and Cullman County EMA were among the agencies assisting with the search.