Person of Interest in Girl's Abduction Freed on Bond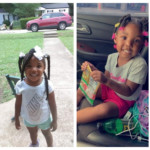 BIRMINGHAM, Ala. (AP) – A person of interest in the abduction of a 3-year-old Alabama girl has been released from jail after being arrested on unrelated charges.
Al.com reports 39-year-old Patrick Devone Stallworth bonded out of the Jefferson County Jail early Thursday. His bond was set at $500,000 on seven child pornography charges.
Stallworth and his girlfriend, 29-year-old Derrick Irisha Brown, were arrested Sunday after police released surveillance images of the SUV believed to be involved in Kamille "Cupcake" McKinney's abduction Saturday outside at a birthday party. Stallworth has not been charged with any crime in connection with the child's disappearance.
Meanwhile, WIAT-TV reports the Jefferson County Commission has approved $8,000 to be added to the $20,000 CrimeStoppers reward for information in the case. With the addition of a $5,000 reward from Gov. Kay Ivey's office, the rewards total $33,000.
(Copyright 2019 The Associated Press. All rights reserved. This material may not be published, broadcast, rewritten or redistributed.)