Pike Road Football Coach Ed Rigby Resigns After One Season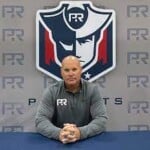 Sources at Pike Road High School confirm that Ed Rigby has resigned as Head Football Coach of the Patriots.
Pike Road High School Director of Human Resources Ryan Kendall says the Pike Road School Board accepted Rigby's resignation at Monday nights board meeting.
In his first and only season as head coach, Rigby was 7-5 with an exit in the second round of the class 6A state playoffs.
Alabama News Network is working to get more details on Rigby's resignation.