UPDATE: Search Canceled for Missing Toddler in Montgomery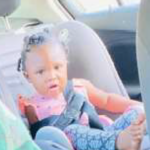 UPDATE: The search for missing toddler Ava Dansby has been canceled. No other details have been provided.
Original Story:
Police say 19 month old Ava Dansby was last seen in Montgomery on Sunday, March 19th.
She may be with her 21 year old mother Lateasha Wright.
Both Ava and Lateasha are believed to be in danger.
Anyone with information is ask to call Montgomery Police at (334)-625-02532, or dial 911.
WAKA 8 will update this story if and when any new information becomes available.