Alabama State Rolls Past Thomas 93-68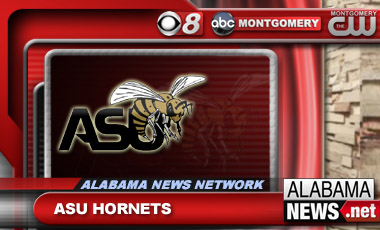 DeMarcus Robinson scored 17 points as Alabama State cruised past NAIA Thomas University of Georgia 93-68 on Monday night.
   
The larger, deeper Hornets (6-4) outrebounded the Night Hawks (8-5) by a 55-32 margin.  Alabama State led by as many as 33 points, and held the lead for nearly 38 minutes.
   
In addition to Robinson, who hit 8 of 13 shots, Billy Ingram added 14 points, Bobby Brown 13 and Luther Page 10. Maurice Strong hauled down 15 boards, Page and Brown grabbed nine each. Jalen Waters added 12 assists.
   
Fare'al Walker led the Night Hawks with 17 points. Trey Gosier scored 12 points and Max Grace added 10. Thomas' top scorer, Justyn Watkins (22.25 points per game) did not start, and scored nine points in 13 minutes.
(Copyright 2013 The Associated Press. All rights reserved. This material may not be published, broadcast, rewritten or redistributed.)