Harrell, Auburn Top Arkansas-Pine Bluff 91-59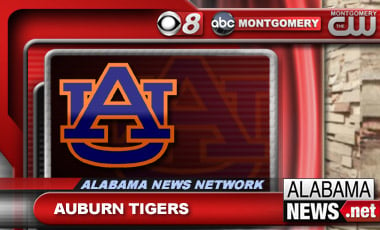 KT Harrell led the way with 19 points as Auburn rolled past Arkansas-Pine Bluff 91-59 Monday night.
   
Chris Denson added another 17 points for the Tigers (7-3). Tevin Hammond led Arkansas-Pine Bluff with 19 points.
   
The Golden Lions (2-10) took the lead on Ghiavonni Robinson's 3-pointer 14 seconds into the game, before Auburn rattled off 17 straight, and 26 of the next 30.  Auburn led by at least 20 the rest of the way and took a 53-25 lead into halftime.
   
Auburn shot 65.4 percent from the field and made 10 of 19 3-point shots while Pine Bluff shot 32.8 percent. The Tigers out-rebounded the Golden Lions 41-29.
   
Harrell's 19-point performance marked his 10th straight double-digit performance for the Tigers, as the junior guard has reached double figures in each of Auburn's games this season.
   
Dion Wade added 15 points for the Tigers in the win.
(Copyright 2013 The Associated Press. All rights reserved. This material may not be published, broadcast, rewritten or redistributed.)