ADOC Pushes for Prison Consolidation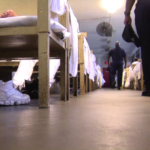 The Alabama Department of Corrections will be pushing a proposal this legislative session to help Alabama's prison overcrowding problem.
The plan to consolidate 14 of Alabama's 16 maximum and medium security prisons into four large state of the art regional correctional facilities is called the Alabama Prison Transformation initiative. Department of Corrections Commissioner Jeff Dunn discussed the initiative with journalists who toured two state facilities today… Showing why he feels it's necessary for lawmakers to pass it.
Besides overcrowding, Dunn says that a big issue in most of Alabama's 16 prisons is staffing. He says that most facilities are operating with 50% staffing and one prison with as low as 30%.
At Draper Correctional Facility, Dunn says there are around 14 corrections officers on staff at a time.
In this one dorm alone there are sometimes more than 200 inmates. 1 correction officer monitors all of them, upstairs and downstairs.
Upon walking into the kitchen, we were greeted with the smell of today's dinner…shortly after, the smell of sewage.
Dunn says that the pipes in the underlying sewer system is almost completely compromised. He says they have to constantly keep water on the floor for sanitary reasons and as a result of plumbing and draining issues. The kitchen floor itself is in pretty bad shape, and in many places there are gaping holes.
It's a similar story at The Julia  Tutwiler Prison for women, the state's second oldest corrections facility behind Draper. It was originally built to hold 550 inmates. Monday's inmate count: 859. The warden there says that they are doing their best to make the most out of out-dated facility and keep up with the large population of inmates but there are several areas of concern like the small bathrooms in the dorms that sometimes house over 100 inmates, or the boiler room that has significant structural issues. There is only one small classroom used for educational purposes or programs such as treatment, counseling and life-skills.
Dunn says that many of the conditions that we saw are typical at other facilities as well, and that something has to be done soon. He urges lawmakers to seriously consider the initiative this legislative session.