i-Team: Where is the ASU Audit?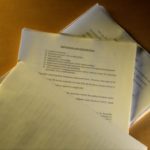 Like many controversial issues involving Alabama politics, fiction can't beat the facts fueling the issue itself. The alleged affair between former governor Robert Bentley and his aid Rebekah Mason is a prime example. The scandal and eventually resulted in the Bentley's resignation.
Long before the alleged affair, there was another cloud hanging over the Bentley Administration: the financial audit of Alabama State University.
Gov. Bentley called for the forensic Audit in January 2013 following allegations of financial mismanagement. Former university president Joseph Silver made those claims against some of the university's leaders two months earlier. Silver said he was was put on leave after questioning university spending and later pushed out.
In October 2013, Birmingham based Forensic Strategic Solutions released an initial report on its findings, outlining alleged wrongdoing by some of the University's former board members; Claims the university's then interim president William Harris said were flawed.
"I have no idea how they got it so wrong. Other than at some point I think they had a mission to get it wrong, and found what they wanted to find," said Harris in October 2013.
Since FSS released that preliminary report, time has gone by; lots of it. More than 4 years later there is still no final report. Alabama News Network contacted FSS for an update. The company's media liaison told us to contact the Governor's legal counsel.
Attempts were made to contact Former Gov. Robert Bentley's legal consel, David Byrne, via email and by phone. He's till working in the Governor's legal office under Kay Ivey, training his successor. His secretary told us he was unavailable for an interview, but to contact FSS President Ralph Summerford.
"I can tell you this if it was Alabama, Auburn or any other institution other than Alabama State it would not have gone on this long," said Rep. John Knight, D-Montgomery. Knight was ASU's vice president when the initial audit findings were released. Even though is he a state legislator, he says, he too has no idea when a final assessment of the audit is expected
"It's just not justice when an audit or forensic audit, something that's never been done to a 4 year institution that I know of, goes on for 5 years; it hurts student enrollment, it hurts recruitment, it hurts everything that your trying to do in terms of fund raising," said Knight.
Current university officials say they have no comment on the issue, at this time, with no final assessment to refer to.
Alabama News Network Political Analyst Steve Flowers echoes john knight, Saying the entire process has hurt the university. Flowers also says it's more bad press for former governor Robert Bentley. "It shows his lack of leadership and lack of focus his last couple of years; to say it's not the biggest black eye of his administration he had quite a few there towards the end."
Flowers says he expects to the see this issue finally be resolved under Kay Ivey's Administration given her experience working closely institutions of higher education in the state.
As for the cost to taxpayers. Rep. John Knight says "it's millions of dollars. Once this is over and you find the total amount of money that's been spent on this case it will be unconscionable for taxpayers."
When it comes to what we know about the cost. so far, in 2013, the governor's office reported it paid Forensic Strategic Solutions just short of a million dollars to conduct the audit up to the preliminary report being released. No one knows how much money the company was or is being paid to continue the work.
Alabama News Network contacted the attorney general's office which took over the investigation into allegations of financial mismanagement at the university, And spokesman Mike Lewis said they don't comment on ongoing investigations. We also asked if anyone is looking into the whether taxpayer money has been or is being misused and we were given the same response.
Alabama News Network asked Gov. Kay Ivey's office if putting an end to the ongoing audit of Alabama State University is on Governor's list of things to do.
Communications Director Eileen Jones sent us this statement:

"Governor Ivey is focused on using the transition to steady the ship of state. The immediate focus is finishing out the legislative session strong. Afterwards, she plans to review outstanding topics of the former administration, like the ASU audit."