Check Out Your Christmas Tree Disposal Options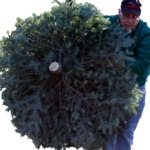 Now that Christmas is over, you may be wondering what to do with your leftover live Christmas tree.
There are several cities that will take your tree to recycle it.
In Montgomery, you can take your tree to one of the regular trash pickup points from 9 a.m. until 3 p.m. on Saturday, December 30 or Saturday, January 6.
The trees will be used as fish habitats in Lake Martin or Lake Jordan.
If you leave your tree by the curb, it'll go to the landfill.
In Prattville, you can leave your tree at the curb anytime from now through January 19.
The trees will be ground up by Alabama Power and used for mulch by the Public Works Department.
You can also take your tree to the Prattville recycling center.
And in Pike Road, you can take your tree to Town Hall from Thursday, December 28 through Thursday, January 4. Just look for the special drop off point in front of Town Hall, which is at 9575 Vaughn Rd.