President Trump Delivers 1st State of the Union Address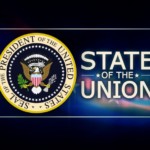 President Donald Trump's first State of the Union address clocked in at one hour and 20 minutes.
According to the American Presidency Project, that makes Trump's speech one of the longest State of the Union addresses in recent presidential history.
President Bill Clinton's final State of the Union speech in January 2000 ran longer than Trump's at just over an hour and 28 minutes.
Clinton delivered another lengthy State of the Union address – an hour and 24 minutes – in January 1995.
Trump spoke for exactly one hour last year when he addressed a joint session of Congress, but that was not a State of the Union address.
During the speech, President Trump said his administration is waging a "maximum pressure" campaign to prevent North Korea's "reckless pursuit of nuclear missiles" from threatening the U.S. homeland.
Trump says that threat could be a reality soon. He says past U.S. experience with North Korea shows that "complacency and concessions only invite aggression and provocation."
Trump is praising Ji Seong-ho, who is attending the State of the Union speech. Ji was born in North Korea and lost limbs in a train accident before defecting to South Korea, where he helps other defectors. Trump says his "great sacrifice is an inspiration to us all."
Trump also acknowledged the parents of American college student Otto Warmbier, who died shortly after being released from detention in North Korea.
(Copyright 2018 The Associated Press. All rights reserved. This material may not be published, broadcast, rewritten or redistributed.)