Energy Institute of Alabama Honors Linemen for Hard Work, Sacrifice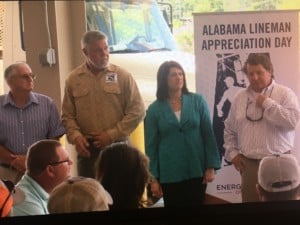 When power needs to be restored after a storm, it is up to linemen to get the electricity up and running again. Those workers were honored for their hard work and sacrifice on Monday, otherwise known as Lineman Appreciation Day.
The event was hosted by the Energy Institute of Alabama in Montgomery.
 Employees from electric companies represented by the EIA were provided with a free luncheon after various speakers came to show their appreciation for the sacrifices those workers make.
 "They're actually lifesavers," Seth Hammett, chairman of the EIA, said. "There's no question, sometimes when emergencies are called, there are life-threatening situations that they handle. They're called out on all hours of the day and night, and on-call 24 hours a day, seven days a week. And we think they should be recognized."
 Three lineman from the Baldwin EMC were given the Outstanding Service Award for their acts in providing a generator to run an oxygen machine for a woman whose home was without power due to storm damage.
 Jody Taylor, a co-recipient of that award, said that any of the linemen in attendance were worthy of the award.