Experts Warn Public After Recent Alabama Fox Attacks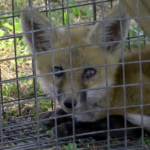 According to a statement released by Alabama Department of Public Health, two people have been attacked by foxes believed to be carrying rabies in Baldwin County within the last week. One of those cases occurred on July 6th, when a fox attacked a young teen and her dog, before running off. The second incident happened the day after, when a fox attacked a disabled man as he sat in his wheelchair outside his apartments front door. Both of those victims are undergoing treatment. Local experts want to warn residents to stay cautious.
Marianne Hudson is the Conservation Outreach Specialist for the Wildlife and Fresh Water Fisheries Division of Outdoor Alabama. She says rabies can result in death within days if contracted.
"Rabies is 100% fatal disease in humans, so it's not something to play around with," Hudson said.
Rabies is a disease that is normally transmitted through saliva from animal to animal. Doctor Mason Chandler works closely with animals at Golden Animal Hospital in Montgomery. He explains how rabies infects its carrier.
"Its a central nervous system disease," Chandler said. "So if an animal is bitten, it will travel the nerves to the central nervous system and eventually back out. Then they can infect other people and animals."
Mason says being bitten by an infected animal is not the only way can be transferred and that is important to seek medical treatment immediately if a person or pet is bitten by an infected animal.
"You can also be infected by scratches. It's rare, but animals clean themselves so if they get saliva on their nails they can scratch you."
He also explains that there is about a ten day quarantine period, meaning infected animals need that much time before they can die from the disease if not treated.
Hudson says that foxes and other wild animals thrive in urban environments, and it's important to keep those away animals that may carry diseases. She offers tips that can help limit wild animals from coming into neighborhoods.
"It's very important that we do what we can to avoid those encounters. Pick up your trash, don't leave pet food outside, and try to keep those animals back in the woods."
Hudson also says to stay clear of wild animals, even if it appears it needs help.
"Do not pick up wildlife," Hudson said. "If you see injured or orphan animals that appear to be in need in the woods, leave them alone. These animals can be very sick and it's important that you don't expose your family to those diseases."
If you or your pet is bitten or scratched by awild animal, you are advised to seek medical treatment immediately. For more information, you can visit www.outdooralabama.com