Demolition Begins On Historic Troy University Gymnasium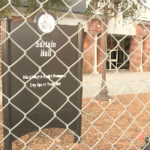 Construction crews began the process of tearing down Troy University's former basketball gymnasium Sartain Hall Monday morning. Sartain Hall is known for hosting concerts from bands like Jimmy Buffet and Ike and Tina Turner, and a record-breaking 258-point performance from the Troy men's basketball team in a 1992 victory over Devry University. Sandy Atkins is the Deputy Director of Athletics at the university. She was among the crowd who watched the first wall get torn down.
"It is bittersweet that you have to take down such a memorial building," Atkins said. "But also seeing the progress that we've been able to accomplish at Troy is remarkable."
Sartain Hall was built in 1962. In its place will be a parking lot for the new Student Fitness Center currently being built.
Steve Haynes is the grandson of Auxford Sumner Sartain, a university professor after whom the gym was named. Hayes and his wife drove from Virginia to be on site.
"I made sure that I wanted to be here when steel first touched brick," Haynes said.
He said it was bittersweet to see a monument that bore his grandfather's name be torn down.
"Its tough, but I'm glad Troy University will endure and this is part of it. They need the space," Haynes said.
As a former student athlete who played in Sartain, Atkins has memories that she will carry with her.
"It's hard to recreate what those feelings were in this arena," Atkins said. "And you know,it really felt special."
Construction crews will spend the rest of the week cleaning the inside of the building, and will begin demolishing the rest of the outside next week.