Famous Boeing B-17 "Madras Maiden" Lands in Montgomery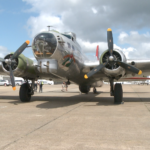 You have a chance to ride in a part of history in Montgomery this weekend. As part of its 2018 Salute to Veterans tour, the non-profit Liberty Group is displaying its famous Boeing B-17. 73 years after WWII, The "Madras Maiden" is visiting Montgomery for its first time.
Captain Don Roney is the Air Operations Officer for the Red Tails Over Montgomery Air Show. He says its important to remember what our fallen heroes have done for us, and take advantage of opportunities to see pieces of history when given the chance.
"It's really important to be able to go look at these old airplanes and see what those generations before us have gone out," Roney said. "And the freedom they've fought for, to be reminded of that and just these beautiful machines and what the united states is capable of doing when we put our minds to it."
Built in 1944, The Madras Maiden is painted up in the markings of the 381st Bomb Group, which flew its final mission on April 21, 1945. While the Madras Maiden didn't see much combat during WWII, B-17's overall were a force in the war.
"They're the most famous bomber ever built, one of the more famous military planes ever built," Ray Fowler, Director of Flight Operations for Liberty Group, said. "So the B-17 was a 4-engine heavy bomber and did daylight bombing over Germany. It had an incredible cost of life for our freedom, so over 58,000 crew members were actually shot down, missing in action, or prisoners of war in the B17."
Fowler says Boeing B-17's like the The Madras Maiden are so rare, there are only 13 B-17's left in the world that can still fly.
"Out of almost 13,000 of these air frames built, there's only 13 now flying world-wide," Fowler said. The Liberty Foundation takes it all over the country so people can see it fly and it not be parked in a museum."
Just as it restored the Madras Maiden, the Liberty Foundation wants to restore knowledge of all WWII aircrafts, as well, according to Fowler.
"Our deal is whenever we have kids come out that know more about a Wolrd War II airplane than we do, we're doing our part to keep t hat history alive. and its just something that all of us as volunteers love and enjoy being a part of."
The public can purchase flights to ride in the Boeing B-17 Madras Maiden this Sunday at the Red Tails Over Montgomery Air Show. B-17 flights are $450 for non Liberty Foundation members and $410 for foundation members. Call 678-589-7433 to schedule your B-17 Madras Maiden flight. It is for Sunday only. No flights will be given on Saturday. For more information, you can visit Liberty Foundation website at www.libertyfoundation.org