Art Talk Featuring Alabama Artists Set for Friday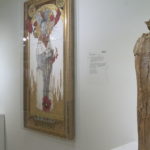 When you think of art, you don't often think of Alabama. That could be about to change.
The exhibit, called Alabama Art: Inside Out, is on display at Troy University's International Arts Center is displaying work from Troy-born and world-renown artist Nall, who is using his work to shine a light on fellow Alabama artists.
"He wanted to show the world how amazing, how much talent we have here in Alabama," curator of the IAC Carrie Jaxon said. "He gathered 12 artists and he did a portrait series of these artists."
Nall worked with the artists to include pieces of their art within each respective portrait. The portrait series has been developed into a book. The art and book is on display for an Art Talk taking place Friday, September 7th, when Nall will be joined by Alabama artists Bruce Larsen of Fairhope and Yvonne Wells of Tuscaloosa. Jaxon said the public is invited to attend.
"The event is a great way for the public to have the opportunity to hear a little more from the artists and to learn a little bit about the show through the eyes of the artist," Jaxon said.
The exhibit has been on display for a couple of months. Miranda Campbell is a visitor who came through to view the exhibit. She says the art was different from other works she had previously seen, and she had a specific piece that was her favorite.
"My favorite piece was The Harvest by Bruce Larsen," Campbell said. "It's made out of different materials, a lot of natural materials as well, and it shows like a lady, I just like it."
The Art Talk with those featured artists is scheduled for Friday, September 7th from 5-7 p.m. The event is free and open to the public. If you cannot make it to the reception, the Inside Out Art Exhibit will be on display through November 9th.