Andalusia Police Working Overtime to Solve Recent Shooting Cases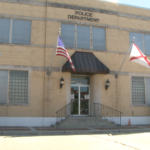 Four shootings in the recent month have Andalusia Police working overtime. APD continues to search for suspects. The shootings happened on August 6th on Snead Street; August 11th on Oak Street; August 29th on Pugh Street; and most recently, September 6th on Little Street.
Police Chief Paul Hudson says the only connection in each case has been drug-related activity.
"They're all separate incidents. None of them have been related in any way that we've put together."
There have been no confirmed injuries in any of the cases, but there are damages to homes.
"We've had no injuries, thank goodness. Nobody's been hit, just property's been damaged," Hudson said.
The police department is making progress in its investigation into the Oak Street shooting.
"Investigators were able to come up with a name of the suspect. I was able to get information, enough information to obtain an arrest warrant and we did arrest that subject," Hudson said.
That suspect was arrested in Mississippi and brought back to Covington County Jail. Hudson says he's not sure if the subject remains behind bars. The Department says that while people are talking about gang activity, no organized gang activity has been confirmed.
Despite these recent shootings, chief hudson says the andalusia department is doing everything they can to make sure andalusia streets remain safe. Residents are asked to call police at 222-1155 with any information that can help the department with the investigation….