Sidney Lanier High School Named National PTA School Of Excellence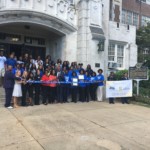 A Montgomery High School is being recognized nationally for improving parental involvement with the schools. Sidney Lanier High School is now a National PTA School of Excellence.
The award is the result of a year-long program where schools must identify and implement ways to improve parent-teacher involvement based on a list of standards, according to the national PTA's website:
Raising awareness about the power of family and community involvement.
Taking action to cultivate involvement through specific programs and practices.
Celebrating success as your school sees increased involvement and its impact.
Studies have found that students from families with above-average parent involvement are significantly more successful school than those with below-average involvement.
"A lot of times there's a perception that parents aren't involved in a student's life when they get to secondary education" explained Sidney Lanier  principal Dr. Antonio Williams "parents are needed at every level of K-12 and we want our parents to know that we need their support".
Montgomery Public Schools superintendent Dr. Ann Roy Moore, says the goal is to have similar success in other Montgomery Public Schools.
"When a student knows that his or her parents support what is going on in the school they actually perform at higher level and they also have better behavior" said Moore.
278 schools nationwide were awarded this year though Sydney Lanier is only one of 3 schools in Alabama to earn the title of National PTA School of Excellence.