ALDOT Officials Expect Delays To Continue Along Evacuation Routes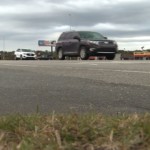 As Hurricane Michael evacuees continue to wait out the storm in Central Alabama, Alabama's Department of Transportation (ALDOT) says you can expect some delays on the roadways.
Major routes in Southeast Alabama including Highway 231, 331 and 431 and Alabama Highway 167 were congested leading up to Hurricane Michael's landfall Thursday afternoon. Thousands traveled into Central Alabama from the Florida Panhandle and Wire Grass Area. Most Alabama evacuation routes are carrying heavy northbound and westbound traffic.
ALDOT is closely monitoring road conditions, and crews are stationed all around Southeast Alabama prepared to respond as soon as it is safe to do so.Crews will  be assessing damage and clearing roadways for first responders and other emergency crews. Multiple signal techs and sign trucks are also on standby and ready to repair any damaged signals or signs as quickly as possible.
ALDOT has been working closely with state and local law enforcement to keep traffic moving as smoothly as possible. They're encouraging drivers to be patient, drive attentively and safely, and buckle up.
Construction, maintenance, and scheduled lane closures on the affected highways have been temporarily suspended to cut down on some of the congestion. ALDOT will be updating the latest traffic and road conditions here, and on the ALGO Traffic App.