Dry And Sunny Weather Pattern Returns
Sunny And Mild Monday Through Friday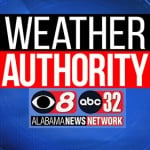 After drenching rainfall last night, beautiful weather has returned to the River Region on this Sunday. Expect a dry and sunny week ahead. High temperatures will be in the mid-70s through mid-week, gradually climbing back into the low 80s by Thursday.
Partly cloudy and cool tonight, with lows near 50.
Monday will be sunny, mild, and breezy, with high temperatures in the low to mid-70s.
Our next rain chance is only a slight one next Saturday.