Mostly Sunny & Very Warm Days…Increasing Rain Chances By Thursday
Mostly Sunny & Very Warm Days...Increasing Rain Chances By Thursday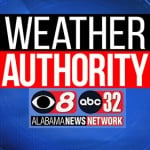 Our typical summertime weather pattern continues across central Alabama, with mostly sunny days…slight rain chances…and afternoon temperatures holding in the low 90s.
For your Sunday evening, expect partly cloudy skies with just a slight chance of isolated showers and storms. Overnight low temperatures will be in the mid to upper 60s.
On Monday, expect mostly sunny and very warm conditions, with only a slight chance of rain and storms. Afternoon high temperatures will climb into the low 90s.
This weather pattern will continue through Wednesday, with a higher chance for rain and thunderstorms by Thursday.