Hope, Abused Rottweiler Released From Animal Hospital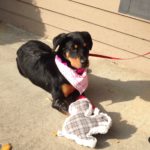 You may remember Hope, the abused Rottweiler that was abandoned and in pretty bad shape.
We've continued to follow her story and keep you updated on her condition. We now have some good news to report:
Dr. Jessica Loch says that "She is thriving, she's doing amazing she's eating and drinking and playing we've seen her personality blossom, she trusts people, she loves other dogs,she's just a Christmas miracle."
Hope the Rottweiler has come a long way from when she first arrived at Taylor Crossing Animal Hospital. You may remember the surveillance video that we aired that shows Hope being dropped off outside of the Bullock County Human Society. She was severely injured and her body was covered with over one hundred bite marks.
Dr. Loch Says that when Hope first arrived at the hospital, she predicted that she had a 10 percent chance of making it through that first night, but In just 5 weeks, Hope has been nursed back to health and all of her injuries except for her front leg have completely healed.
She says "we still have a wound that we're treating. We change bandages three times a day but the more serious question is whether or not the bones inside are healthy, so we are consulting with some orthopedic surgeons in Birmingham on how to manage and where to go from here".
Hope, along with Caspian, another rescued dog, enjoyed a warm send off from their friends and staff at Taylor Crossing Animal Hospital. Both dogs will be going to a foster home until they are adopted.
"we just wanted to get her out of the clinic for the holidays and let her experience a house and stairs and carpet and all of those things that come with being in a home" says Loch.
Dr. Loch also says that "lots of people are really interested but we just want to be really selective and pick the perfect home to make sure that she has a bright future".