Governor Bentley Undergoes "Routine Procedure" for Atrial Fibrillation, Local Doctor Explains The Heart Condition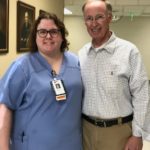 Governor Robert Bentley is said to be in good spirits this evening after undergoing what officials are calling a "routine procedure" at a Montgomery hospital.
The Governor's communications director released a statement  saying Governor Bentley briefly underwent a common, routine procedure for atrial fibrillation. The governor is said to be feeling well and there are no serious medical concerns. The statement went on to say that Bentley will return to work right away.
But what is Atrial Fibrillation? We caught up with a local cardiologist to find out.
Dr Howard Brazil, cardiologist at Jackson Hospital in Montgomery says he regularly treats patients with Atrial Fibrillation. He offered some insight into Governor Bentley's trip to the hospital Wednesday morning.  According to Howard "his hospitalization may be related to an acute event where this all of a sudden just happened and required him to visit his primary care doctor or go the emergency room for treatment, this may have been a condition that was already known and maybe he's coming in for an elective procedure to treat the atrial fibrillation."
It is unclear what symptoms led Governor Bentley to seek treatment, but Dr. Brazil suspects the Governor may have been hospitalized for a procedure called a cardioversion. He says he performs this procedure regularly.
"A lot of times they'll draw routine blood work put an iv line in your arm…..you'll be taken to where the anesthesiologist practices and they'll give you sedatives and put you sound asleep for a few minutes long enough for us to basically give your heart a shock of electricity to jump start it back in a normal rhythm." says Howard. He says the procedure can be scheduled sometimes days or weeks in advance. "sometimes in critical conditions, we have to do it emergently."
The Governor's office says Bentley is expected to return to work right away. Dr. Brazil says the procedure only takes a few minutes he says patients can be in and out of the hospital within a few hours but he says "because he's the Governor, and security reasons he may be there a little bit longer."
At least 2.7 million Americans are living with Atrial Fibrillation. Dr. Brazil says that the condition is more common in people over the age of 70. Common causes of Atrial Fibrillation include high blood pressure, an overactive thyroid gland, previous heart surgery, and excessive drinking.