Following i-Team Investigation: AG Investigation into ASU Closed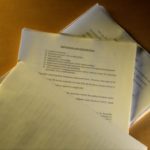 Following the recent airing of our i-Team investigation; Where is the ASU audit?, the Alabama Attorney General's office has announced the investigation into alleged wrongdoing at alabama state university has been closed.
Former Governor Robert Bentley called for the investigation following the 2013 release of a preliminary audit report… Which outlined alleged wrongdoing by three of the university's former board members. The audit was conducted by Birmingham based Forensic Strategic Solutions.
Bentley called for the audit after the university's former president Joseph Silver questioned how the school was spending its money. The AG's office says the case was closed after a grand jury evaluated all of the evidence and declined to act.
Even though that portion of the investigation is over, this question remains unanswered: where is the final report on the ASU audit?
More that four years later and at least a $1 Million of tax payer money spent, we still don't have that answer.
Alabama State's former vice president, Rep. John Knight said this about the investigation. "It's just not justice when an audit or forensic audit, something that's never been done to a four year institution that I know of, goes on for five years; it hurts student enrollment, it hurts recruitment, it hurts everything that your trying to do in terms of fundraising."
The i-Team's Darryl Hood asked the attorney general's office if anyone is looking into the whether taxpayer money has been or is being misused when it comes to paying for the audit and the agency spokesperson says they do not comment on any investigations.
ASU Interim President Leon Wilson released this statement on the investigation being closed:

"A great stone has been lifted off Alabama State University today as Acting Attorney General Chris McCool announced that after evaluating all the data and information assimilated by Forensic Strategic Solutions (FSS) in what is known as the FSS Audit –  that he is closing the entire proceedings because the special grand jury that was empanelled to review the "so-called" audit findings declined to act on any allegation.
The ASU family applauds his wise, just and prudent decision.
Today, more than four years after Governor Robert Bentley authorized the first of several FSS contracts to produce an audit of the University, and after three years – plus, when  FSS submitted a  shabby, so called  "Preliminary Update"  of its audit; FSS failed to produce a final audit report or a scintilla of hard, true evidence of criminal wrongdoing at ASU, even after collecting more than two million dollars of Alabama taxpayer money for what can only be called a "witch hunt."
This misuse of taxpayer dollars is shameful, as well as the false allegations and innuendos purported against the University, which only aspired to give its students the very best education possible.
The University will hold a formal news conference at a time to be announced." – Dr. Leon C. Wilson