Several Montgomery Non-Profits Compete For $100,000 Grand Prize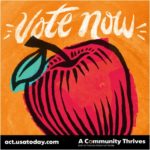 Several Montgomery non-profits are in the running to win $100,000. The competition, sponsored by USA Today, aims to help fund organizations making a difference in their community.
Montgomery YMCA serves meals to children at over 41 cites around the city… last year they unveiled their first ever food mobile to provide fresh, healthy meals to even more neighbors facing hunger. Laura Lewis of the YMCA says  "we felt a real draw and obligation to figure out a way to take the meals to the children who might not be able to get to us…so hence the 'Brown Bag Bus' was born".
The food mobile has launched them into a finalists seat in USA Today's "A Thriving Community" contest. Lewis says the 100, 000 dollar grand prize would definitely go a long way. She explains "the Brown Bag Bus, it's very expensive to operate, I mean you think of about all of the parts and pieces to run a car well its you know double that with a bus, it takes people to be able to get on the bus to administer these meals and then the meals themselves cost about a dollar each.".
But the YMCA isn't the only non-profit in Montgomery with their eyes on the prize. At least 10 other non-profits are competing for the 100,000 dollar grand prize or one of the two 50,000 dollar prizes in the Wellness, Arts & Culture, or Education categories. Like the YMCA, they'll need your vote to take home the big bucks and continue making their communities thrive.
To see you the complete list of those in the running for the $100,000, and to cast your vote for you favorite non profit , click  here, be sure to type "Montgomery" into the search bar.