Gun Buy Back Program In Montgomery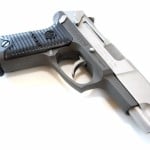 Crime Stoppers and the Central Alabama Community Foundation have teamed up to get as many illegal guns of the street as they can. They're sponsoring, a gun buy back event that kicks off tomorrow. After success in other cities, Tony Garrett of Crime Stoppers says they're giving the gun buy back program a try, but with an added bonus.
He says "we're still buying guns but we are also having service providers there to let people know what services are out there for people that may be going through something".
This month alone, Crime Stoppers turned over 100 anonymous tips over to law enforcement….garret says That's almost double the usual amount. He's hopeful that the community will rally around this program in the same way.
"It makes me proud because we're doing our part and we're showing that the community is doing their part so we need every one to take a part in taking their streets back." says Garrett.
Sponsors are offering up to 100 dollars for unwanted or illegal guns. Anyone can participate and exchanges can remain anonymous. Though neighbors that have recently had violence in their neighborhood have mixed feelings.
"I don't think that will work because first of all they are not going to turn it in to them thinking they will get arrested." says Rosalyn Cable
Mary Skipper says "The more guns we can get off the street, the better it is, although we know it wont resolve the entire problem, it is a step. Any step is better than not a step at all."
Garrett explains, "You just can't have a 215 stop tip line and think that's going to solve all of our problems. we have to have all the service providers all the community all the churches all the government agencies, we have to have everyone to take a part in taking back what we think should be a civilized community".
The buyback will take place at First Baptist Church downtown from 10 until 2. This is the church across the street from Montgomery police headquarters. You can turn in guns anonymously.. but they must be unloaded.. with any ammunition kept separated. All guns will be destroyed.
It's 50-dollars for a rifle or a shotgun.
Also, 50-dollars for a working handgun.
You'll get 100-dollars for an assault weapon.
Other types of guns like BB guns or non-working guns.. can be turned in, but without compensation.