Local Church Leaders Commit To Improving Montgomery Public Schools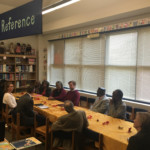 It was a day of brain storming, as local church leaders met with teachers and staff to find out what they can bring to the table, in Montgomery Public Schools.
A group called the Pan-Methodist Group, made up of people across several church denominations, met at E.D. Nixon Elementary to find out how they can do more to be apart of the solution.
Jeremy Pridgeon of Montgomery First United Methodist church says Tuesday's meeting was a continuation of a partnership that started years ago. "We've done supply drives and back to school and that certainly helps with those who are under privileged, but we are looking at more tangible ways of one to one support".  The group plans to collaborate on ways to take their assistance a step further, based on schools' needs.
Third grade teacher Sherita Mason, says the need for mentors is a top priority in her classroom, "just be that extra help that extra hand that we need" she explained.
Principal Dana Williams says the need for community involvement has always been crucial to the success of students, and says the has been highlighted in the midst of the state intervention of Montgomery Public Schools.
"Everyday in the news we see something about Montgomery Public Schools" she explained "…and its nice to know that there is positivity , that someone is trying to come in and support us as opposed to tearing our district down."there are a group of people that are interested in returning the glory to MPS".
The Pan-Methodist group meets once a month to discuss ways to become more involved in local schools.