Lawmaker Proposes to Raise Age for Assault Rifle Purchase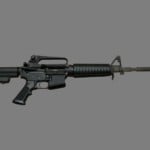 An Alabama lawmaker says the state should raise the minimum age to buy an AR-15, or similar weapon, to 21.
Rep. Juandalynn Givan, a Democrat from Birmingham, introduced the bill Thursday. She said someone should not be able to purchase such a deadly weapon as a teenager. A teenager killed 17 people in a Florida school last week after purchasing an AR-15.
Federal law requires someone to be 21 to buy a handgun, but an 18-year-old can buy a long gun in most places. Only two states require someone requiring someone to be 21 or older.
Senate President Pro Tem Del Marsh, a Republican, said he believes it's something the state should consider.
However, Marsh doubts the bill could win passage before the session concludes in about a month.
(Copyright 2018 The Associated Press. All rights reserved. This material may not be published, broadcast, rewritten or redistributed.)