Montgomery Zoo Offering Assistance to People with Sensory Disorders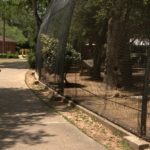 Montgomery zoo officials say they are making the zoo more welcoming to people with sensory processing disorders. Those are conditions like Autism, P-T-S-D, Dementia or A-D-H-D. The zoo partnered with a Birmingham-based organization called KultureCity, who trained zoo employees to make sure anyone can enjoy the attractions.
Officials say they want the zoo to be a place anyone can enjoy, regardless of age or disorder.
"Its not just for children," Melanie Golson, the marketing manager at the zoo, said. "A child or adult may need to cover their ears or be removed from a situation and be a little more relaxed."
The gift shop at the front entrance will give out sensory bags containing noise cancelling headphones, toys and other devices to help those individuals with a disorder to enjoy the attraction. There will be marked locations around the ground called "headphone zones" or "quiet zones," which are for parents and caregivers to bring the individual, should he or she need a quiet place to unwind or calm down before going back out.
"We have animals that roar and a train that makes noises," she continues. "Those noises can trigger a person who has one of these disorders and make them feel uncomfortable."
Jessica Perry is the mother of a child who has a sensory processing disorder. She is also a part of KultureCity, and says she's appreciative of the cooperation the zoo is giving.
"To know that when we get there, if my kid were to have a meltdown, the staff would know what to do to help intervene with that or they have a place designated to go to kind of calm down," Perry said.
For more information, you can contact the Montgomery Zoo at 334-625-4900, or go to montgomeryzoo.com