Balloon Launch Fundraiser for New Troy Cancer Center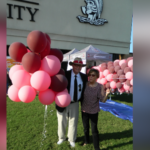 It has been said cancer is no respector of persons.
"Cancer care is something that does not discriminate. Young, old, any socioeconomic group of people have been impacted by cancer," Chief Clinical Officer at Troy Regional Medical Center Amy Minor said.
Through a partnership with the Center, the Pike Medical Foundation is raising money to help open a new cancer treatment center through a balloon launch.
"It's where we will launch balloons. They're a hundred dollars a piece, and we sell them all throughout the community," Dr. Steve Garrott, a long-term Troy professor in the Sorell College of Business said.
The goal is to raise $100,000 to equip and prepare the soon-to-open the Troy Regional Cancer Center for its debut in just a few weeks.
"We launch these balloons and the one that is found the furtherest away in two weeks will win $1,000," Garrott said. "But the ultimate goal is not winning. It's helping the hospital raise funds to again facilitate various operations, right now at the cancer center."
For the medical center, they want to meet the growing needs of the community.
"Thats our goal is to have patients eliminate the travel associated with chemotherapy infusion, be able to get their infusions here."
This means cancer patients will no longer have to drive to Birmingham, Montgomery, or Dothan to get cancer treatment care. But its going to take a lot of support, according to Garrott.
"It takes tremendous outside support to keep it up and running in a modern way."
The balloon release is set for Thursday, October 4th on Troy University's Trojan Tailgate Terrace. If you're interested in volunteering with Campaign 2018 or purchasing a balloon for the launch, hospital officials say the easiest way is to contact Troy Regional Medical Center at 334-670-5000.